Maven at Capitol Commons - LOCATION
Live and play in the city - Everything is at your doorstep
Capitol Commons, or "The Commons" to the Maven set, is a 10-hectare development located on the former site of the Rizal Provincial Capitol at Pasig City, Metro Manila. With an open park, a gastro strip, a mall and an array of programmed entertainment options, everything is just outside of your doorstep.
Shopping, dining or walking in the park, The Commons is where Maven goes to play. . . everyday.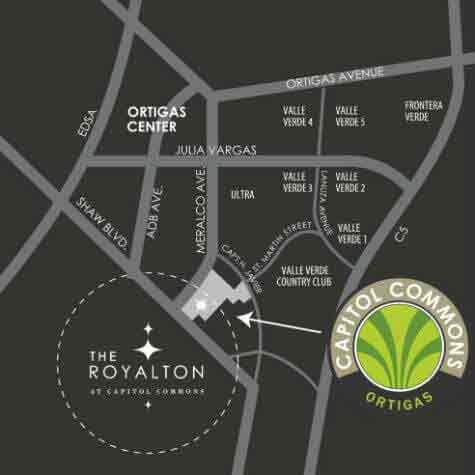 MODERN LIVING IN HEART OF THE CITY
Accesible from 3 major points, Meralco Avenue, Shaw Boulevard and Capt. H. Javier, Capitol Commons is setting the new standards of luxury and leisure living. It is the new hangout place in the metro. Indulge yourself in upscale shopping at Estancia, satisfy your cravings at Gastro and enjoy the Capitol Commons park, which is perfect for recreation and relaxation. Soon you will be able to experience the finest entertainment at Paragon, do your grocery shopping at Unimart and find your santuary in the premium residential towers of Capitol Commons. Adding to the unique charm of The Commons are its office spaces that house multinational companies.

LUXURY & LEISURE LIVING
Indoor and outdoor shopping and dining is made possible by a beautiful, seamless architectural design with the Capitol Commons Park serving as a lush backdrop.

A UNIQUE SHOPPING EXPERIENCE
Estancia houses a premier collection of fine international fashion brands and destination retailers, complemented by a delectable array of dining choice. It is your stylish jewel.

STATE-OF-THE-ART ENTERTAINMENT
Unveiling at Capitol Commons in 2017, Paragon will be the Metro's go-to destination for cinematic adventures. An all-around entertainment complex, Paragon's attractions will go far beyond its six cutting-edge digital cinemas. Movie dates and family days will have their place, as this mega-moviehouse will also boast a full complement of lifestyle stores and dining options, perfect for any day out.
EVERYTHING WITHIN YOUR REACH
Perfectly suiting Capitol Commons philosophy of being a complete lifestyle playground. Unimart's 20,000 sqm home will be a literal one-stop supermarket for anyone and everyone, from the jetsetter mother shopping for her growing family to the yuppie on-the-go looking for life's little essentials. The supermarket will open in 2016, bright and ready to serve the varied needs of the Capitol Commons Community.
SNACK AROUND
From quick snack runs to foodie indulgences, Capitol Commons offers a variety of dining choices with its Gastro free-standing restaurants.
YOUR HOME OUTSIDE
Experience relaxation even outside the comforts of your home. Enjoy morning walks in the park with your pets or have afternoon picnics with your family and friends.
Arguably the heart and soul of Capitol Commons, the Capitol Commons park seamlessly blends urban lifestyle with the great outdoors, allowing even the most exhausted urbanite to feel refreshed by fresh air..